" My soul proclaims the greatness of the Lord" (Lk: 1:46)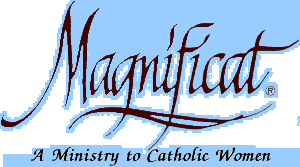 Directory

Home

History

Objectives

What is
Magnificat Meal?

Prayer Groups

Prayers

Chapters

Our Service Team

Membership

Calendar

Newsletter

Picture Gallery of Events

Store

Go back to top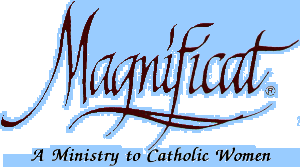 Orange County Queen of Peace Chapter
---
THE MAGNIFICAT MEAL
---
The Magnificat Meal is the essential function of Magnificat. This two-to-three hour gathering takes place at least four times a year.
| | |
| --- | --- |
| A Shared Meal | Can be breakfast, lunch, or dinner. |
| Fellowship | Offering women a chance to share and enjoy one another in the atmosphere of God's presence and love. |
| Praise | A period of time in communal praise and worship centers the participants on the Lord: it remains open to the Charismatic gifts while being sensitive to the varied background of all present. |
| Personal Testimony | One woman's personal expression of God's action in her life. This highlight is, in fact, the reason people come. |
| Intercessory Prayer | A time of prayer for the needs of the Church and of those present |
| Home | History | Objectives | What is Magnificat Meal? | Prayer Groups | Prayers | Chapters | Our Service Team | Membership | Calendar | Picture Gallery of Events | Store

Go back to top